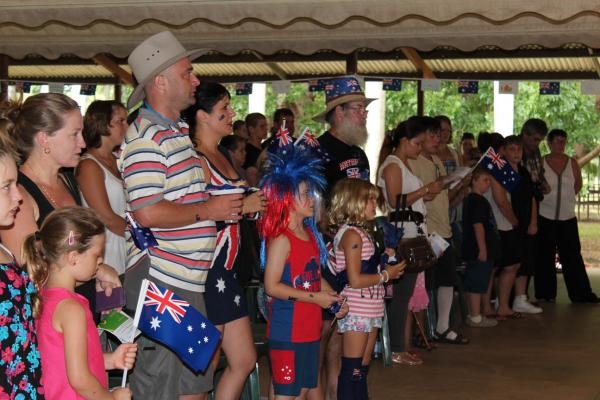 Happy New Year, I hope you all had fun over the Christmas Holidays and wonderful Australia Day celebrations.
This year was my first year as Mayor for the Australia Day celebrations and I had a brilliant time. We celebrated our National Day at Lake View Hall, Freds Pass Reserve starting with the Litchfield Australia Day fun run organised by Noddy from the Rural Hash House Harriers, this year attracting some people from the city whom said they came because they welcomed the easy free parking and the run allows kids, bikes and dogs.
After the fun run the Litchfield Palmerston Rotary club cooked up a mass of bacon and egg sandwiches then we began the Litchfield awards ceremony; which included welcoming our four newest rural residents who took to the stage taking their pledge as citizens.
Not only are the celebrations about welcoming our new citizens to the community but also it acknowledges those who have contributed to our community with the Australia Day Awards:
Rita Ardley – Citizen of the Year
Ryan Davis – Young Citizen of the Year
Berry Springs Markets – Community Event of the Year
We also acknowledged those who were presented school citizen awards, seven rural school children were awarded a certificate and medallion for their contributions to the school and community.
Katelyn Bailey, Bees Creek Primary School
Georgia Campbell, Berry Springs School
Layla Winteridge, Girraween School
Lindsay Cheal, Good Shepherd Lutheron College
Finniss Beasy, Good Shepherd Lutheron College – Primary
Edward Manderson, Middle Point Primary School
Caitlin Burt, St Francis of Assisi Catholic Primary School
This years celebrations was again made possible thanks to the many volunteers who got up early and helped set up, cook, clean and pack it all away after, the day could not have been possible without them, thank you.
Volunteers
Whilst talking to the volunteers groups at the Australia Day celebrations they informed me that more members are welcome, many activities and events are run through volunteer organisations, and they all need some extra help. If you have any spare time then why not think of offering some of it to a community group, you'll have lots of fun and make some new friends.
Staying Safe
Living in the Top End has its dangers; we should all by now be prepared for a cyclone and know what our action plan is. Playing in stormwater pipes and drains is dangerous at any time of the year and there is a high risk of serious injury or drowning. It is important to educate your children about the dangers of playing in pipes and drains. We have had reports of crocodiles in drains in the Litchfield Municipality; it must be assumed that any body of water in the Top End may contain large and potentially dangerous crocodiles. Please teach your children, the NT Government have many resources available on all the safety issues, head to the Litchfield Council website and following the links to theses resources.
Dog Management
On 1st March 2011 the Litchfield Council Rural Dog Management By-laws came into force. All dogs within the Litchfield Municipality must be securely contained to their own property and have a micro-chip. The micro-chip details must be provided to Council. The next mirco-chip day is 27th February; contact the Council for further details or to make an appointment.
There has been news items in the paper about animals been destroyed by dogs. If you have a concern about dogs please report the issue to the council, we can be emailed [email protected], telephoned 8983 0600 or call in and talk to us, 7 Bees Creek Road, Freds Pass. We cannot assist if we don't know your concerns. In the past weeks several people have discussed issues on social media sites regarding pack dog attacks in the Municipality, however only one report was made to council.
In many rural area dogs roam in packs both wild and domestic dogs, any sightings or attacks should be reported to council, that way we can record the data you give us and monitor the area, the more information we have will help with Council control of wild animals and enforcement of the the bi-laws.
The reason we need to know about pack dogs roaming is that we can put a pin in a map to show where these dogs are and then we can get an idea of where the dogs may be coming from, then in turn hopefully solve the problem, so please report sighting to council.
Mobile Workforce
The team are out and about slashing and spraying, picking up rubbish, making your Council area look pretty.  Most of the new equipment is here and the team are working hard to settle in to using the new machinery.
Emergency Services in the Rural Area
Late December I wrote a letter to the Chief Minister; requesting a meeting to discuss the emergency services cuts in the rural area.
The cuts to four full time Firefighters in the Darwin rural area and the transfer of their duties to volunteers is a concern to many residents. So all I can do is keep fighting to keep our emergency services located at Humpty Doo, I'm hoping the government will see the errors of their ways and reverse the decision and also see that we need an ambulance station with an ambulance at Humpty Doo for the growing rural area.
A copy of the letter I sent to the Chief Minister was emailed to those on the Litchfield Council mailing list; if you would like to be included on this mailing list or receive a copy of this letter please contact council
Health and Hospitals
I am interested in a positive future with good health care for Litchfield residents therefore when it was called for expressions of interest to join the Northern Territory health and hospital services management board, I was quick to submitted my letter of interest, I will keep you posted if I am successful in joining the board.
Talk to the Mayor
I have been out and about, Coolalinga, Humpty Doo and Howard springs shopping centres as well as the Coolalinga markets. Many people don't have time to come to the office and chat with me about their ideas, concerns and suggestions, this is a chance for you to come and talk to me. So if you see me sitting out there, come over for a chat, as I want to hear what you have to say.
How things work
Since becoming Mayor I have found that it's not an easy job; you have to make decisions and sometimes those decisions are not what people would like, but when you're making decisions you have to look at the bigger picture.  That bigger picture is 3,100 km² and within it are four communities, knuckeys Lagoon, Howard Springs, Humpty Doo and Berry Springs, with nearly 20,000 people residing.
I know when you ask me to fix something in your area it is very important to you and I get that, but what I have noticed is there is not enough money to do a lot of things that you would like to be done, the flat rating system that we have in place now is not good enough for the future of Litchfield Council the area and its people.
The Litchfield Municipality is becoming more urbanised now, more than ever before. Residents are asking for curbing, guttering, footpaths, lighting, rubbish removal, all the things you see in a city. Council makes the decision but this is how it all works: the decisions are calculated and analysed from information that is given to your Councillors and myself from the general public and the Council staff, and based on this information a decision is made.
Decisions are passed through Council, no decision is made on one person alone, that is what the council meetings are about, think of it like a machine, I am one cog in that machine, another four make it work, the Ward Councillors. Please talk to me, whether at the Markets or whilst shopping. But also engage in your local Ward Councillor, your concerns are important to us
So until next time Hug your family, pat your pets and enjoy life.
Allan McKay
Litchfield Mayor
0409 940 108